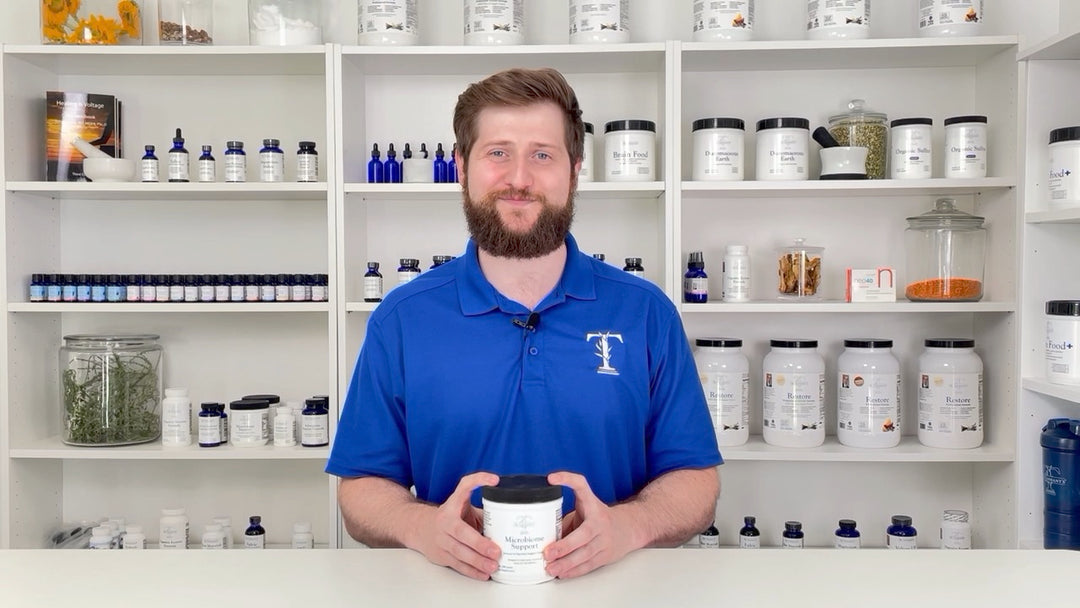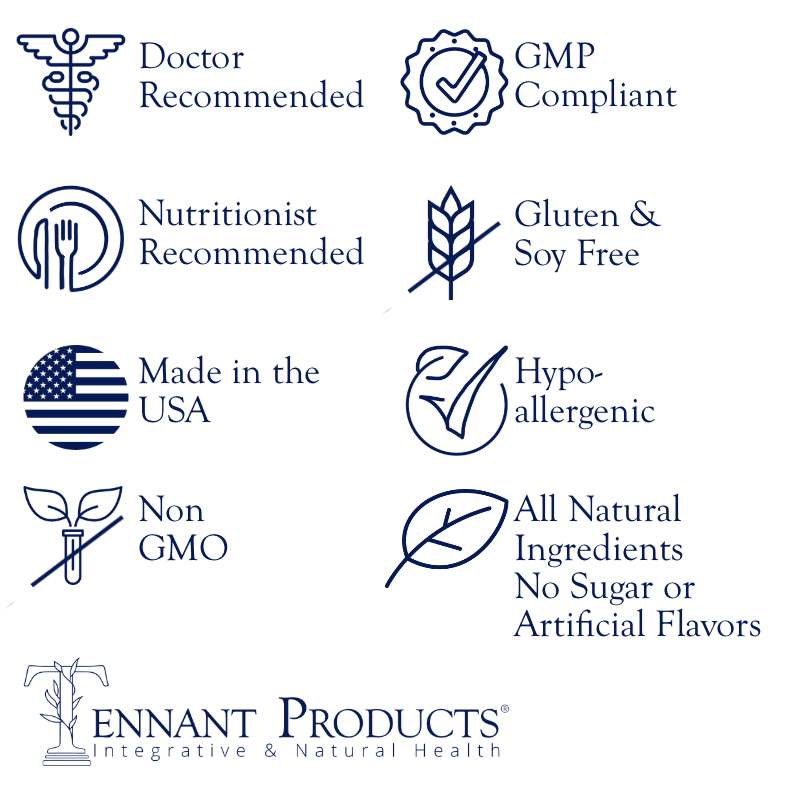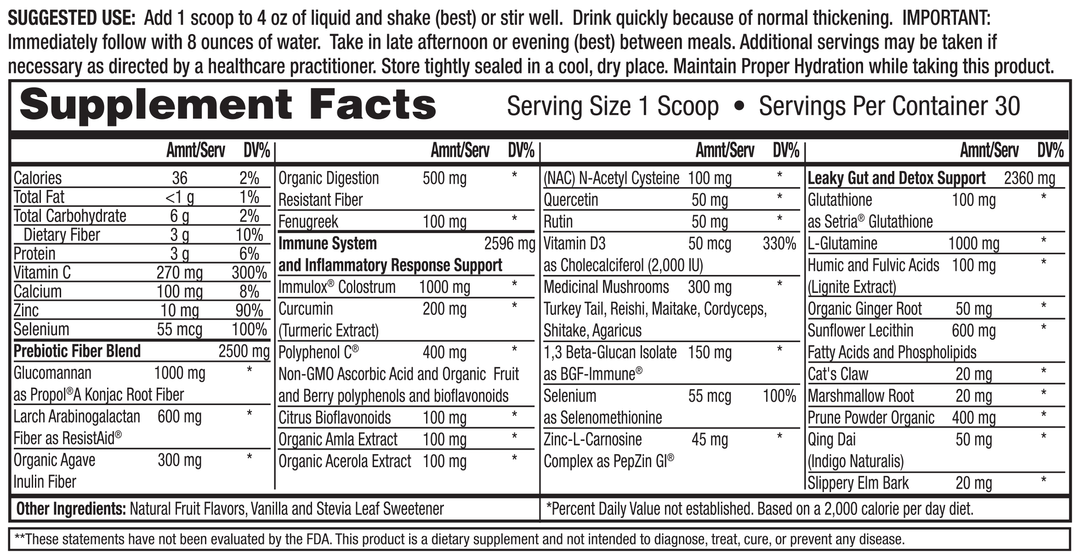 Dr. Tennant's Microbiome Support
---
Dr. Tennant's® Microbiome Support can clean, heal, and restore your gut.

With its researched and clinically proven ingredients, Dr. Tennant's® Microbiome Support formula supports a healthy GI tract and microbiome, as well as these important aspects of GI health: 
Promotes improved inflammatory response with anti-inflammatory ingredients that help cool the flames of inflammation, ease gastrointestinal discomfort, and promote better digestion.


Improves intestinal wall integrity by helping to restore tight junctions.


Promotes diversified probiotic colonies using a prebiotic approach with the right kind of fibers "good" probiotic bacteria love, significantly improving the health and diversity of probiotic bacteria, allowing their colonies to flourish and help stabilize the microbiome.


Improves immune system modulation to promote healing by helping the body limit self-destructive autoimmune reactions, while encouraging a healthier and more effective immune response with whole vitamin C, vitamin D3, zinc, selenium and more!


Enhances detoxification and improves regularity by encouraging the binding, shuttling, and elimination of toxins and is further supported with a unique herbal blend that offers relief with normalized bowel habits for effective elimination and detoxification.


Adaptogenic stress and mood support provided by synergistic ingredient blends that help lower cortisol levels and protect against stress-induced damage to the GI tract, improve normal stress responses, and help restore overall balance and a sense of well-being.


Weight management and satiety support (feeling full and not hungry) with soluble fiber.


Craving reduction for fatty or unhealthy foods

by promoting a more balanced healthy GI bacteria flora. 
Jumpstart your microbiome and thank your digestive tract for all it does for you with Dr. Tennant's® Microbiome Support today. 

30-day supply using 1 scoop per day.
Learn More About Microbiome Support
Your Microbiome: How Important Is It Really?
Disclaimer: The information provided on these product pages is for educational and informational purposes only. It is not intended to be a substitute for professional medical advice. Always work with your healthcare provider before starting any supplement program.
Ingredients
Dr. Tennant's® Microbiome Support is a comprehensive formula with an array of "all-star" ingredients combined into one product, now upgraded with additional immune and digestive support:
Setria® (Glutathione)

Lignite Extract (Humic and Fulvic Acids)

Immulox®
Propol A® 

ResistAid™

CurQfen®
IAM® (Immune Assist Micron)
Sustamine®
PepZin GI®

Organic Sunflower Phospholipid Comprehensive Profile

Sensoril®
Polyphenol C ®
BGF-Immune ®
In this upgraded formula we have Increased: 
Selenium 55mcg (100% DV) up from 15mcg (20% DV)

Glutamine 1000mg (up from 500mg)

Organic Curcumin (Turmeric) 200mg (up from 125mg)

Humic & Fulvic Acids 100mg (up from 50mg)

Larch Arabinogalactan Fiber as ResistAid® 600mg (up from 250mg)
And Added: 
Vitamin C – Polyphenol C®

Vitamin D3 as cholecalciferol

NAC – N-Acetyl L-Cysteine

1,3 Beta-Glucan Isolate as BGF-Immune®

Organic Ginger Root

Organic Agave Inulin Fiber

Organic Digestion Resistant Fiber

Fenugreek
Suggested Use 
Add 1 scoop to 4 ounces of liquid and mix well (best with foaming whisker). Drink quickly as this product when mixed, thickens normally. 
IMPORTANT: Immediately follow with 8 ounces of water. 
Maintain proper hydration while taking this product.


Reduce serving size and increase water intake if constipation occurs. 


Take in later afternoon or evening (best) between meals.


Additional servings may be taken if necessary, as directed by your healthcare practitioner.



Refrigerate after opening.
FAQs
What is Dr. Tennant's Microbiome Support?
Dr. Tennant's Microbiome Support is a scientifically formulated supplement designed to promote and maintain a healthy gut barrier. It features researched ingredients that contribute to gastrointestinal (GI) health, immune support, detoxification, and overall well-being.

How does Microbiome Support strengthen the gut barrier?
This supplement reinforces the intestinal barrier and improves GI cellular tight junction function, which is vital for protecting the gut lining from harmful substances and pathogens.
What is the significance of mucosal barrier support?
Dr. Tennant's Microbiome Support aids in mucosal barrier support, offering an additional layer of protection against potential threats to the gut. This is crucial for maintaining overall gut health.
What is the role of prebiotic fibers in this formula?
Dr. Tennant's Microbiome Support includes a special group of high-molecular-weight prebiotic fibers that support the growth of beneficial probiotic strains. These fibers aid in detoxification, weight management, and promoting a balanced gut microbiome.
Is Microbiome Support a substitute for probiotics?
Dr. Tennant's® Microbiome Support takes a prebiotic approach, creating a favorable environment for beneficial probiotic strains to thrive. While probiotics can be beneficial, this supplement enhances the action of probiotics like Dr. Tennant's Probiotic Formula.
How can I benefit from using Microbiome Support?
Incorporating Microbiome Support into your routine can lead to a more balanced and thriving gut microbiome, strengthened immune responses, reduced inflammation, and improved overall well-being.
Learn More About Microbiome Support