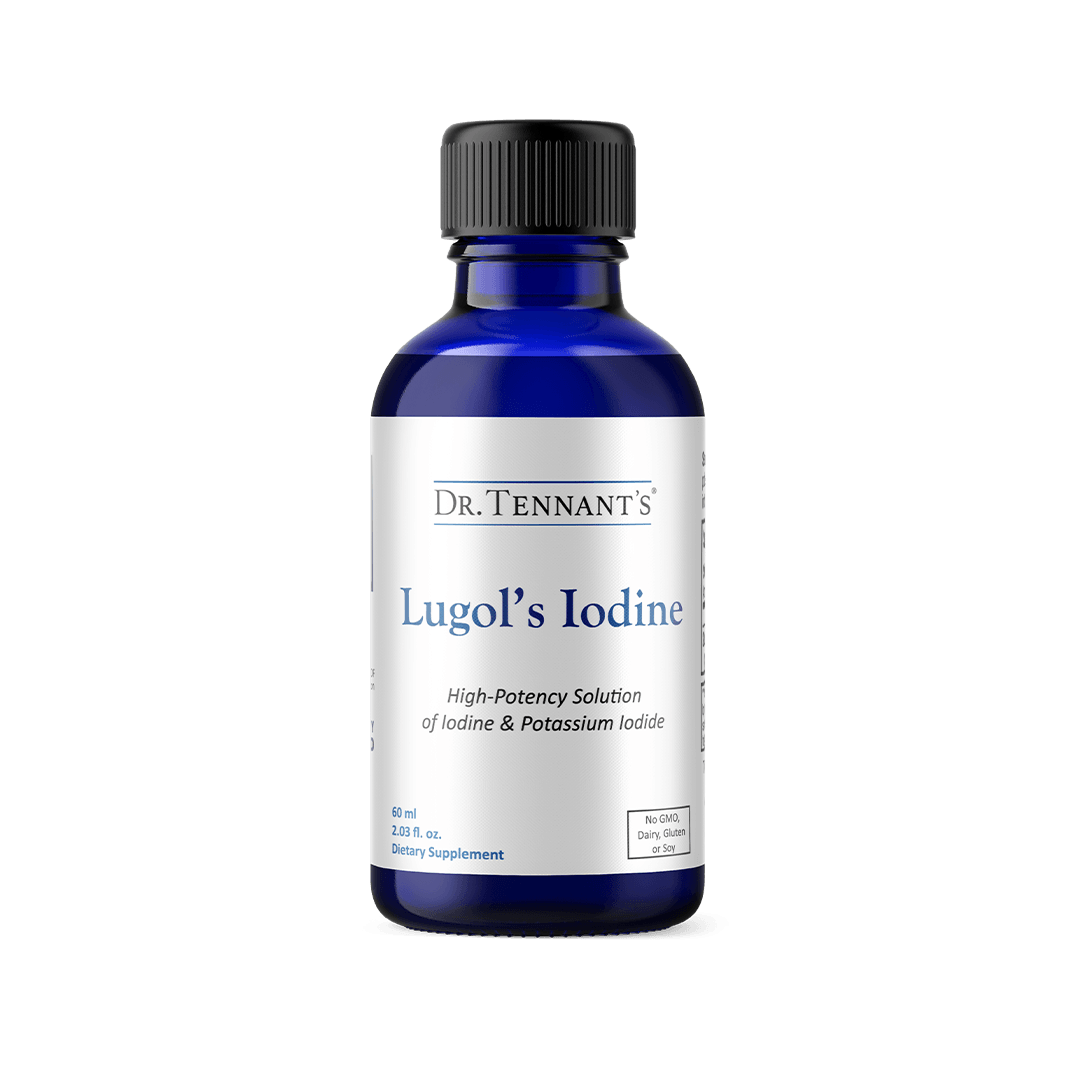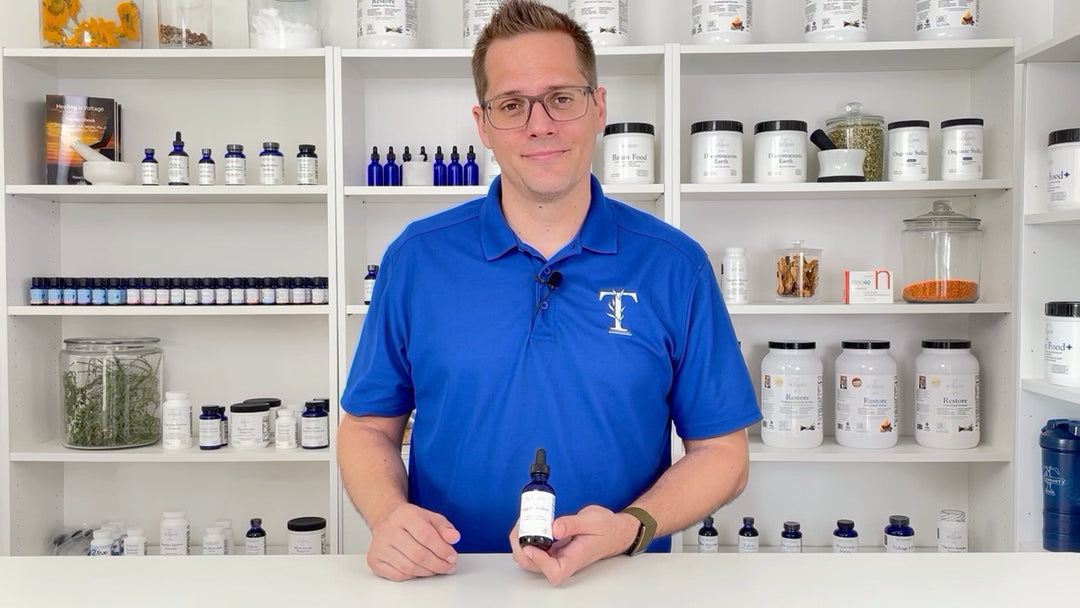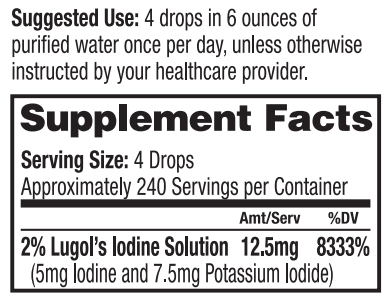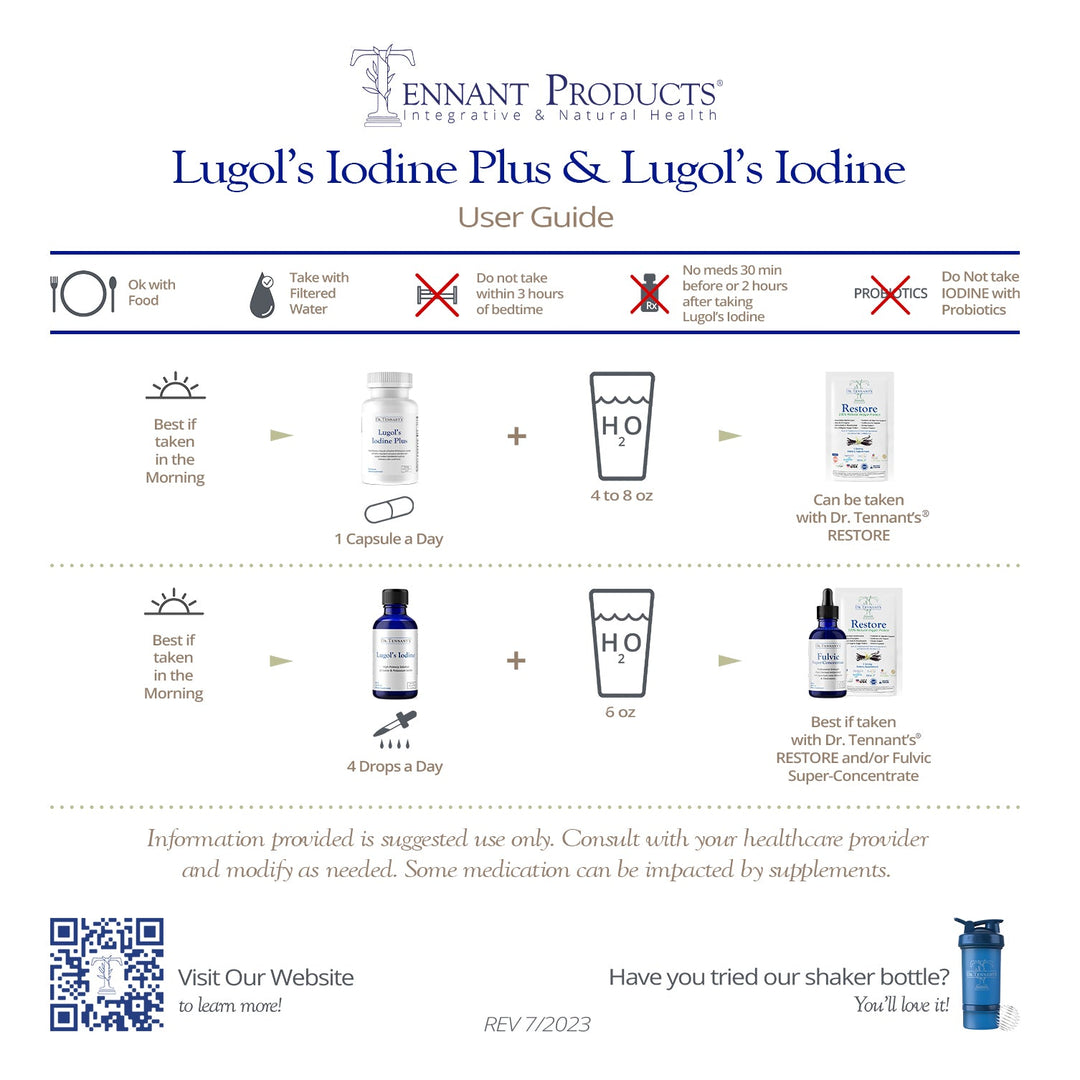 Lugol's Iodine Liquid
---
Dr. Tennant's® Lugol's Iodine liquid is a great solution for supporting the body's need for iodine and iodide. Iodine is one of the few elements required for cellular health that the body cannot produce, so it needs to be supplemented through food or additional nutrition. 
Supercharges energy production

Strengthens & supports the immune system

Improves sharp thinking, cognitive focus and mental acuity

Helps with heavy metal & halide detoxification

Supports production of stomach acid

Helps with fibromyalgia & migraine

Improves cardiovascular health

Supports healthy nails, hair & teeth

Promotes hormone balance of all body's hormones (not just thyroid)

Necessary for proper thyroid functioning and cellular metabolism.  
Dr. Tennant's® Lugol's Iodine liquid is a dissolvable and versatile solution, that can be diluted as needed according to your healthcare provider's instructions. 
NOTE: Iodine needs cofactors like zinc and selenium to work correctly. Cofactors are necessary, so taking with RESTORE is recommended. Supplementation of iodine alone will not provide the desired effect.  (The "Plus" of Dr. Tennant's® Lugol's Iodine Plus capsules has the additional factors that make iodine usable in the body.)  
2 Oz. bottle 
Learn More About Lugol's Iodine
Disclaimer: The information provided on these product pages is for educational and informational purposes only. It is not intended to be a substitute for professional medical advice. Always work with your healthcare provider before starting any supplement program.
Ingredients
Dr. Tennant's® Lugol's Iodine liquid contains 2% Lugol's Iodine solution which is 5mg of Iodine and 7.5mg of Potassium Iodide in a purified water solution.
Iodine & Potassium Iodide – The body requires iodine & iodide (like in table salt). The thyroid gland primarily utilizes iodide while breast tissue primarily utilizes iodine. Different tissues concentrate on different forms of iodine. Using a supplement that contains both iodide and iodine is preferable to using a supplement that contains only one form.
Iodine – The body's first line of defense against infections. Iodine moves secretions from inside cells to outside cells so they can be used. Iodine is critical to making thyroid hormones and stomach acid. 
Iodine is an element found in nature and often in foods. It is critical for life, optimal cell development, and is used by the thyroid and many other organs in the body to regulate mood, temperature, metabolism, cardiac health and mental acuity. 

When the body does not have enough iodine as a resource in one area (like glandular issue such as the thyroid), it will take what it needs from neighboring cells creating a deficit in those cells. This deficit causes impaired cellular regeneration and can play a critical role in the development of hormone regulation, immune support, energy regulation and autoimmune disorders at the cellular level. 
When an adequate level of iodine is present in the body, hormone regulation, immune system function and cellular generation are made possible. 
Suggested Use 
Lugol's Iodine liquid should be shaken well before each use and mixed in water to take. Follow with a glass of filtered water. 
4 drops daily unless otherwise instructed by a healthcare provider. 
Best if taken in the morning with additional cofactors like zinc and selenium, which are included in Dr. Tennant's® Restore.
Can be taken at the same time as other products and with food. EXCEPT do NOT take at the same time as probiotics or with chlorinated or fluoridated water.

No need to be refrigerated after opening.

NOTE:  Check with your healthcare provider to make sure you should take an iodine supplement and that there are no contraindications (such as Hashimoto's Thyroiditis).
FAQs
What are Lugol's Iodine and Lugol's Iodine Plus?
Lugol's Iodine and Lugol's Iodine Plus are comprehensive nutritional supplements designed to provide the body with essential iodine and iodide, both of which play critical roles in supporting various aspects of health and metabolic processes.
Lugol's Iodine Plus has essential co-factors.
Lugol's Iodine Liquid allows you to control dosage. It should be consumed with the required co-factors, which can be found in Dr. Tennant's® Restore.

How does iodine impact our health?
Iodine is a vital trace element with multifaceted implications for human health. It participates in several key functions, including its involvement in immunity, metabolism, energy production, cognitive development, hormone synthesis, detoxification processes, and more. The absence of adequate iodine can lead to deficiencies that negatively impact these fundamental bodily processes.
How common is iodine deficiency?
Iodine deficiency is surprisingly widespread, affecting over 90% of the U.S. population. Moreover, clinical findings and studies conducted by the Centers for Disease Control and Prevention (CDC) reveal that a significant portion—up to 74%—of the population is severely deficient in this essential element.
What are the signs of iodine deficiency?
Iodine deficiency can manifest in a spectrum of symptoms and conditions, including unexplained weight gain, persistent sluggishness, cognitive impairment characterized by brain fog and poor mental clarity, hair loss, mood disorders like depression, frequent muscle aches and cramps, decreased libido, fertility issues, and susceptibility to infections due to low immunity. These indicators underscore the importance of maintaining optimal iodine levels.
How does iodine affect energy production?
Iodine's pivotal role in synthesizing thyroid hormones is key to understanding its impact on energy production. These hormones have a profound influence on metabolism, oxygenation, and energy generation within the body. Iodine deficiency can disrupt the thyroid's ability to produce these hormones, leading to a decrease in energy levels and an overall feeling of sluggishness.