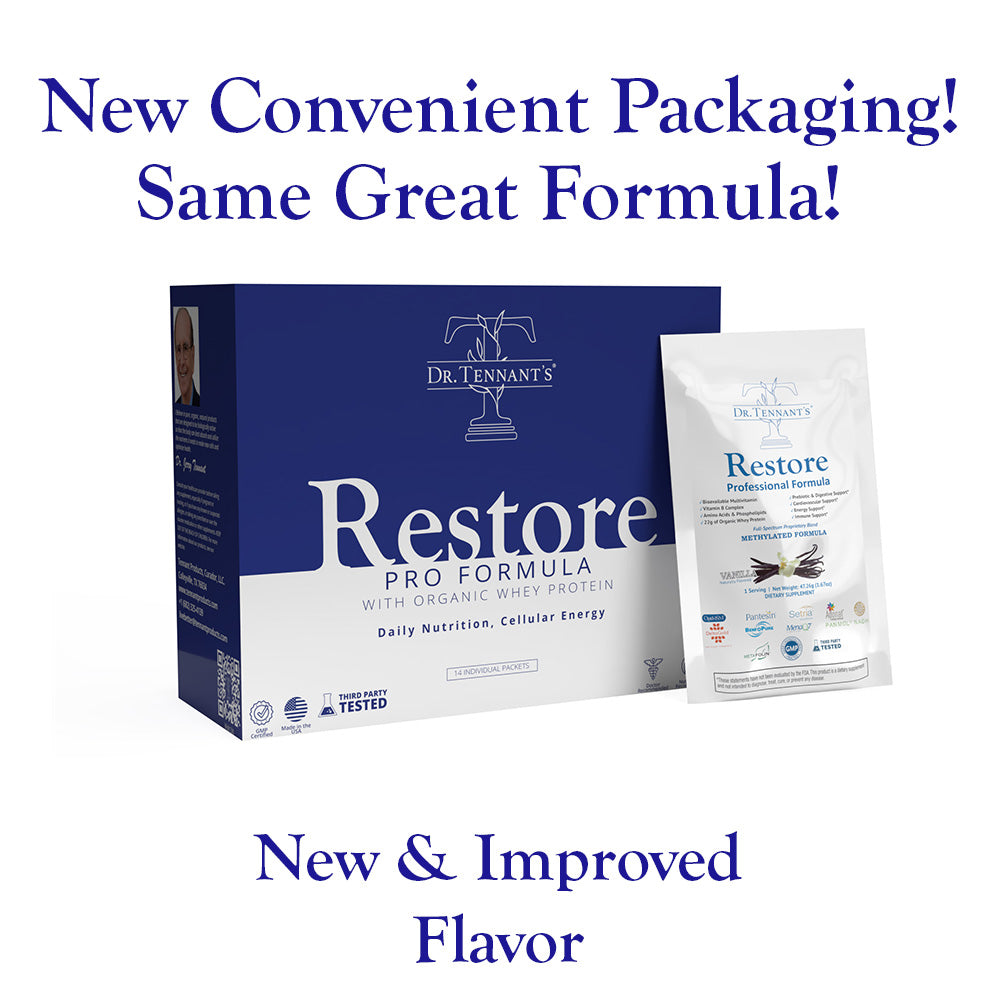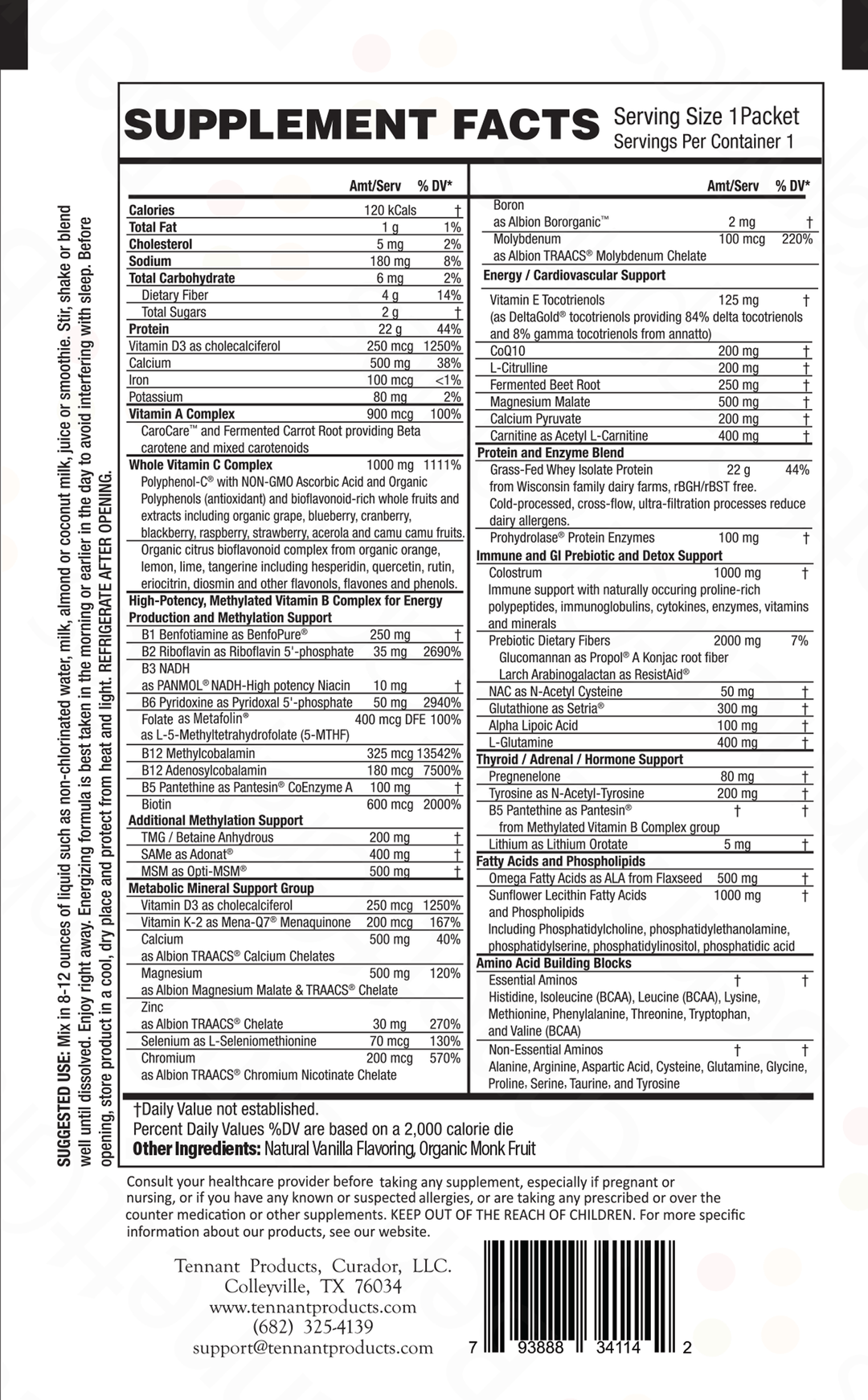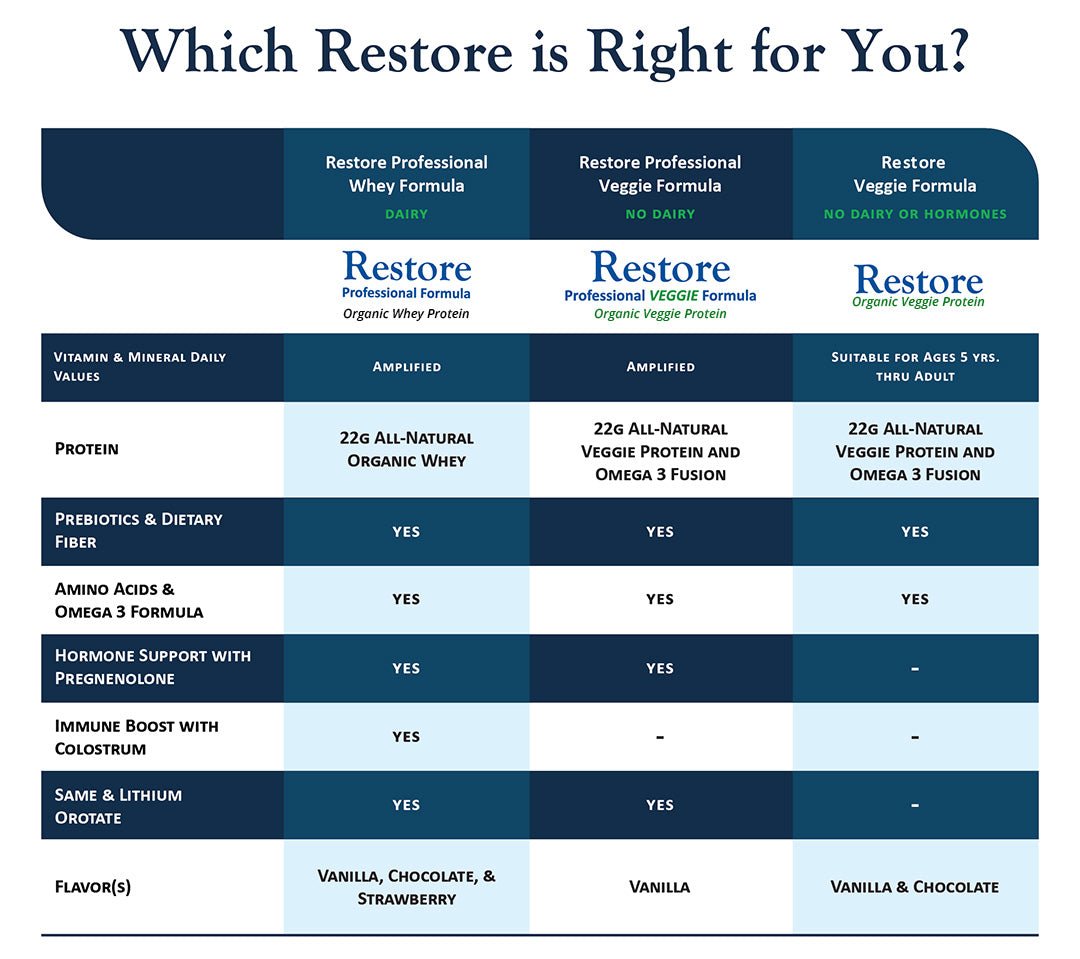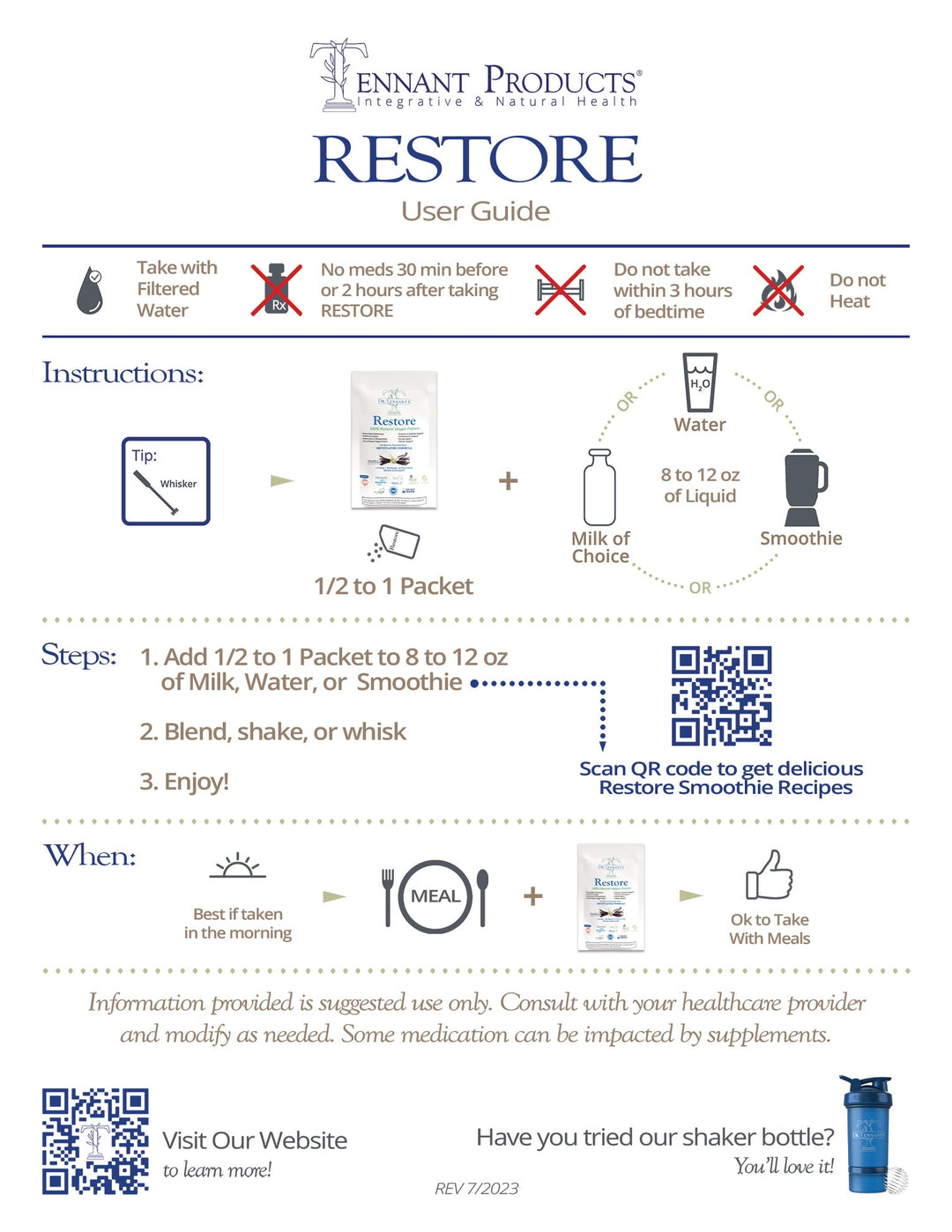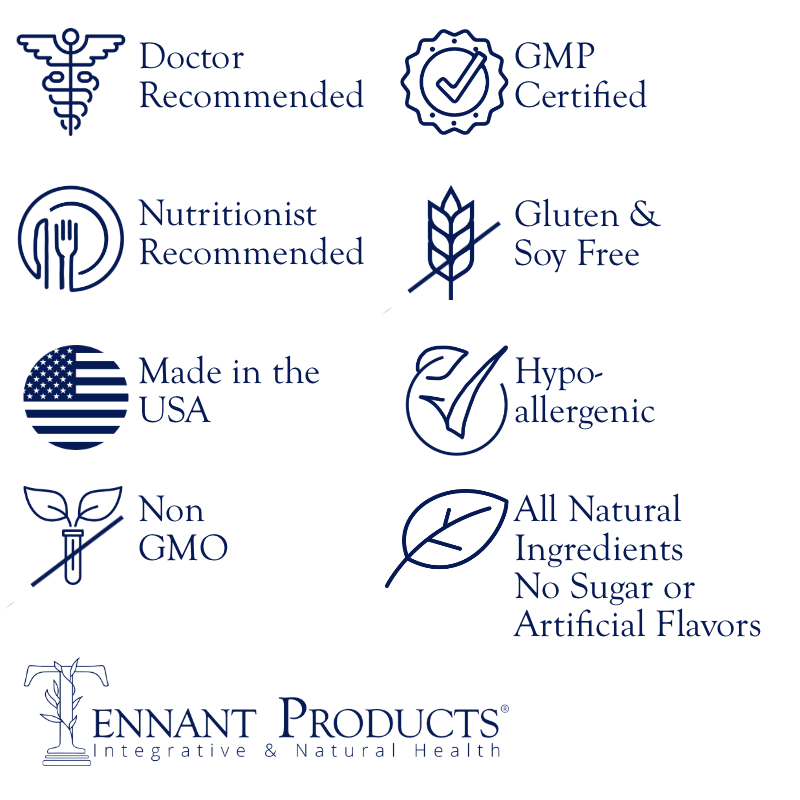 Restore Professional Formula - Vanilla 14 Single Packets
Dr. Tennant's® Restore Professional is comprehensive daily nutrition in one packet! 
An all-natural, biologically active formula with over 90 ingredients to make your daily nutrition simple and save you time and money. No need to have a cabinet full of bottles and take dozens of pills.       
Each serving includes: 
Bioavailable source of daily multivitamins and minerals 
Diverse vitamin B complex 
22g of organic whey protein
Diverse amino acid profile and phospholipids
Prebiotic and digestive support
Cardiovascular support
Energy support
Immune support
Detox support
Methylation support
Now with more natural vanilla flavor and sweetened with organic monk fruit!
Restore contains superior quality ingredients in the most bioavailable form to rebuild your body at the cellular level, simplifying the solution for optimal health in just one packet per day.
Mix with non-chlorinated water, your favorite liquid such as almond, coconut, skim milk, or in your favorite smoothie for a delicious source of comprehensive daily nutrition.
Each box includes 14 Single Serving Packets 
Learn More About RESTORE Formulas
Disclaimer: The information provided on these product pages is for educational and informational purposes only. It is not intended to be a substitute for professional medical advice. Always work with your healthcare provider before starting any supplement program.

Ingredients
Amplified vitamin and mineral formula with bioavailable and chelated ingredients that are ready for your body to use, including Whole Vitamin C and patented and trademarked ingredients such as Metafolin®, MenaQ7®, OptiMSM®, Pantesin®, Sertia® and Albion Minerals®, and others for best absorption. This synergistic formula is designed to give your body what it needs in the easiest form to process.


22g of Natural Organic Whey Protein Formula from grass fed, hormone and BSE free cows.*


Comprehensive amino acid profile including Prohydrolase® Protein Enzymes to optimize protein digestion.


Natural and bioavailable (methylated) Vitamin B Complex including B12 as both Adenosylcobalamin used for energy in the ATP process and Methylcobalamin for brain, nerve and cellular generation support.


Vitamin E as DeltaGold® Tocotrienols to support cardiovascular and metabolic health.


Prebiotics, Dietary Fiber, and Omega 3 formulas for digestion and to support growth and health of beneficial bacterial colonies.


Pregnenolone to support natural hormone development in the body.


Colostrum for boosting the immune system and repairing the nervous system.*


SAMe and Lithium Orotate for well-being, brain health and to help produce and regulate hormones.



Naturally sweetened with vanilla flavor and organic monk fruit.
*Care is taken to reduce dairy allergens in our manufacturing process, but adults who are extra sensitive to dairy may consider the comparable Restore Professional Veggie Formula. 
Suggested Use 
Mix ½ packet to 1 full packet in 8-12 ounces of liquid such as non-chlorinated water, milk, almond or coconut milk, or smoothie. Stir, shake or blend until well-dissolved. Enjoy right away. 
Before opening, store product in a cool, dry place and protect from heat and light. 

Best to use in the morning or earlier in the day to avoid interfering with sleep.

May be used in conjunction with Dr. Tennant's® Raw Materials liquid or capsules.
FAQs
What is Dr. Tennant's RESTORE Formula?
Dr. Tennant's RESTORE Formula is a comprehensive multi-nutrient supplement designed to provide critical nutrients necessary for the body to create new, healthy cells. It comes in both non-professional (veggie-based) and professional (whey and veggie-based) formulations.
What is the significance of healthy cells in maintaining overall health?
Healthy cells are vital for maintaining overall health. Without healthy cells, the body cannot function optimally, leading to various health issues. Dr. Tennant emphasizes that providing the body with essential nutrients is key to promoting cell health.
What sets Dr. Tennant's RESTORE Formula apart from other supplements?
RESTORE Formula contains a unique combination of nutrients, including omega-3 fusion blend, enzymes, amino acids, and phospholipids. It is formulated to support immune, digestive, cardiovascular, and energy systems. RESTORE stands out due to its clean, filler-free, and bioavailable ingredients.
How is RESTORE Formula used?
You can take one-half to one scoop of RESTORE daily by mixing it with non-chlorinated water, milk, or another liquid of your choice. It can also be incorporated into smoothies with organic produce. RESTORE is suitable for individuals aged 5 years and up.
What is the difference between RESTORE's non-professional and professional formulas?
The non-professional formula (veggie-based) contains pea protein isolate, omega-3 fusion blend, and is suitable for the whole family. The professional formula, available in whey and veggie variants, is more robust and features additional vitamins, minerals, colostrum, SAMe, lithium orotate, and pregnenolone to provide comprehensive support.
How does RESTORE support cellular health and regeneration?
RESTORE Formula provides the body with essential nutrients required for optimal cellular energetics. These nutrients work together to promote cell regeneration, ensuring the body's ability to create new healthy cells.
Are there any artificial additives or GMOs in RESTORE Formula?
No, RESTORE Formula is free from fillers, preservatives, hormones, soy, dairy, toxins, artificial flavors, and GMOs. The ingredients are carefully selected to be clean, methylated, and bioavailable for optimal utilization by the body.
What makes RESTORE more effective than other supplements?
RESTORE's effectiveness is attributed to its high-quality, biologically active ingredients. It contains over 20 patented or trademarked ingredients, each chosen for its potency and efficacy on the cellular level. The ingredients are formulated with appropriate co-factors to ensure optimal absorption and utilization by the body.
Can RESTORE replace other individual supplements?
Yes, Dr. Tennant formulated RESTORE to provide a comprehensive solution that replaces the need for multiple individual supplements. It's designed to provide optimal nutrition for cell regeneration and overall health.
Who can benefit from using Dr. Tennant's RESTORE Formula?
RESTORE Formula is suitable for individuals of all ages (5 years and up) who are looking to support their cellular health, immune system, digestion, cardiovascular health, and energy levels. Both non-professional and professional formulations offer options for various nutritional needs.