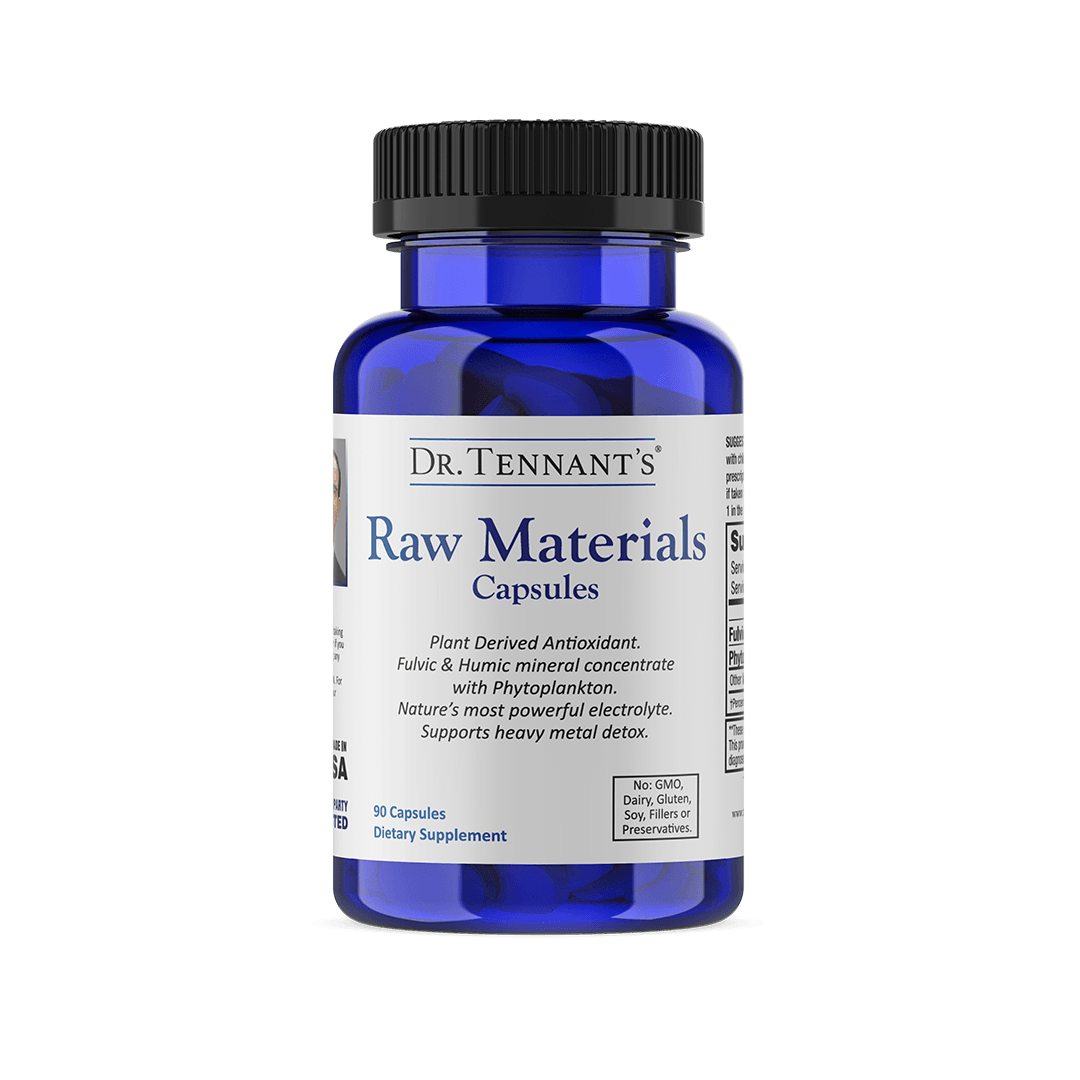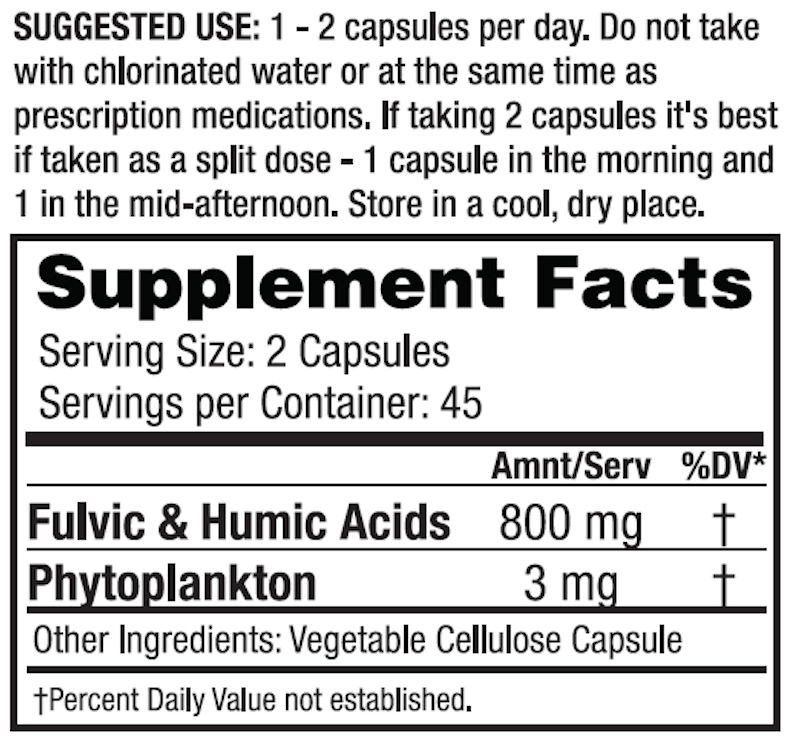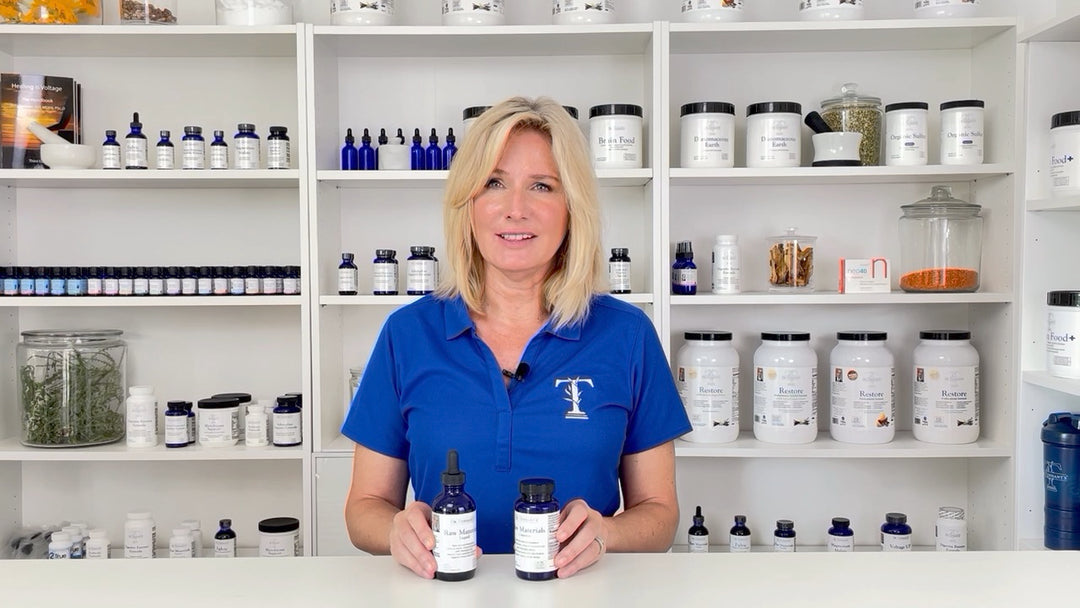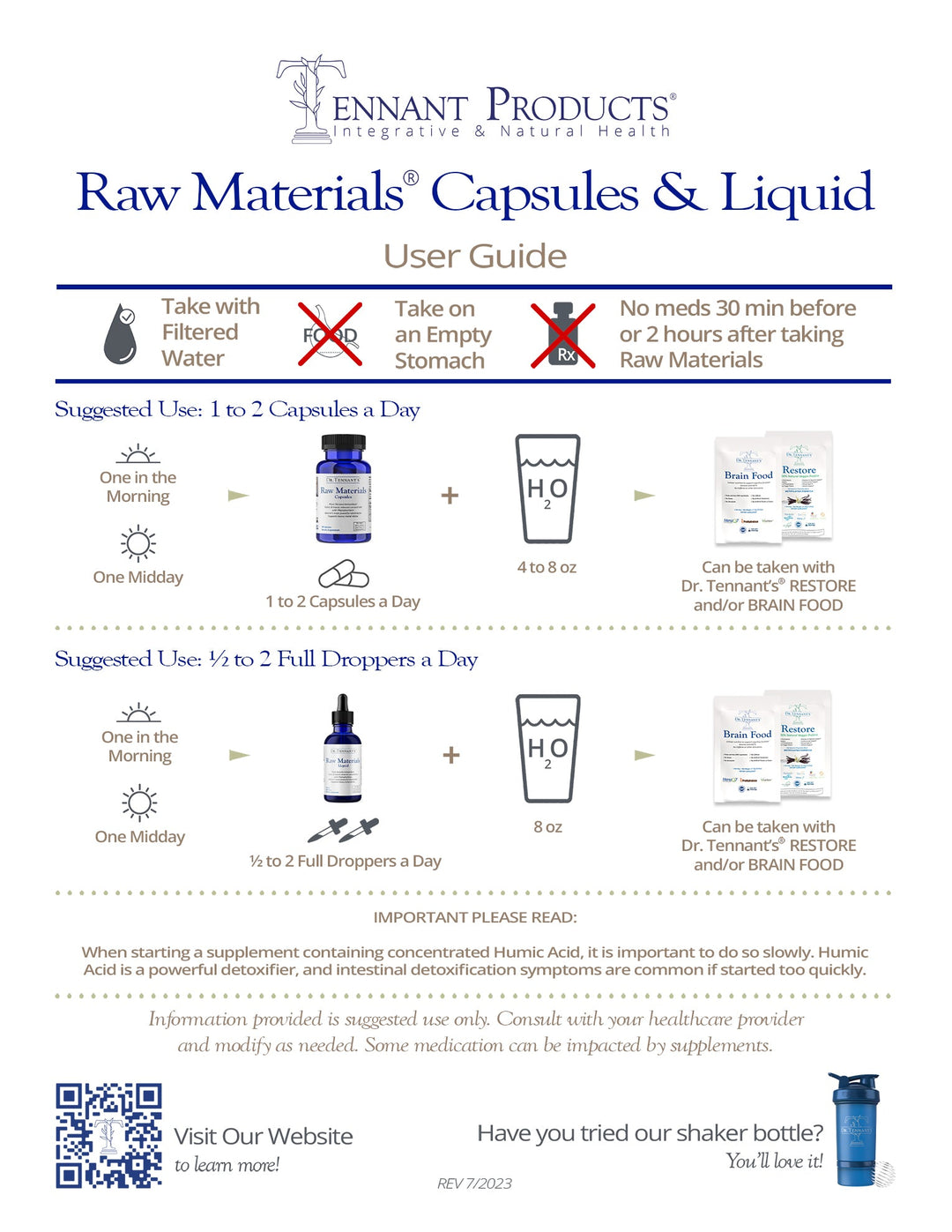 Dr. Tennant's® Raw Materials® Capsules with humic and fulvic acids, provides the micro and trace nutrients required for optimal health at the cellular level. These nutrients help replace the microorganisms often lost in the food eaten today.
Transports vitamins, minerals, amino acids & phytonutrients

Binds with heavy metals & toxins to safely eliminate from the body

Promotes energy at the cellular level

Nature's most powerful electrolyte

Super-antioxidant
Humic and fulvic acids are super-antioxidants that aggressively neutralize free radicals and bind heavy metals and other toxins to safely eliminate from the body system.  

Dr. Tennant's® Raw Materials also has Phytoplankton.  Phytoplankton and humic/fulvic acids form a powerful partnership, with each component contributing unique benefits that complement the other. By combining the nutritional richness of phytoplankton with the absorption-enhancing and detoxifying properties of humic and fulvic acids, this dynamic synergy supports overall health, cellular function, energy levels, and brain health, making them a valuable addition to any health regimen.
Did you know that even if eating only organic food, the quality of the nutrition we absorb is significantly less than that of food 30 years ago? Current farming practices often deplete nutrients found in the soil and the body requires supplementation to replace these lost microorganisms for optimal nutrition. Dr. Tennant's® Raw Materials® provide these micro and trace nutrients that the body requires in a complete solution. 
90 vegetarian capsules
45-day supply taking 2 capsules a day 
Learn More About Raw Materials®
Disclaimer: The information provided on these product pages is for educational and informational purposes only. It is not intended to be a substitute for professional medical advice. Always work with your healthcare provider before starting any supplement program.

Suggested Use 
1-2 capsules per day for regular maintenance. 
If taking 2 capsules, it's best to be taken as a split dose: one capsule in the morning and one in the mid-afternoon.


Take 30 minutes away from prescription medications.



Do not take with chlorinated water. 
NOTE: When starting a supplement containing concentrated humic acid, it is important to do so slowly. Humic acid is a powerful detoxifier, and intestinal detoxification symptoms are common if started too quickly.
FAQs
What are Raw Materials® (Humic & Fulvic)?
Raw Materials® (Humic & Fulvic) are specialized natural compounds derived from humic and fulvic acids. These potent antioxidants actively counteract free radicals and facilitate the safe elimination of toxins from the body. Additionally, they supply essential micro and trace nutrients that support optimal cellular health. Raw Materials® by Dr. Tennant source these humic and fulvic acids from a pristine location renowned for its high fulvic acid concentration and vital mineral profile. .
How do Humic and Fulvic Acids work?
Humic and fulvic acids are remarkable transporters. They carry an array of up to 74+ minerals, including trace elements, as well as vitamins, amino acids, and phytonutrients throughout the body. These acids elevate nutrient absorption, ensuring that nutrients reach cells. Moreover, they facilitate the electron transfer required to maintain cell membrane charge, invigorating cellular energy and dynamics.
What are the benefits of Humic Acid in the GI tract?
Humic acid serves as a digestive champion in the gastrointestinal tract. It fosters a balanced microbiome, manages fluid and electrolyte equilibrium, enhances bowel functionality, and more. Its positive influence on gut health contributes to overall well-being.
How are Raw Materials® used for natural detoxification?
Dr. Tennant's® Raw Materials® play a role in priming the natural detoxification processes within cells, particularly for those dealing with chronic illnesses. These materials work in tandem with personalized protocols, enhancing nutrient uptake and utilization.
How do Humic and Fulvic Acids support cellular energetics?
Cellular energetics thrive through the contribution of humic and fulvic acids. Their electron donation mimics miniature batteries, energizing cells. This energy supports cell membrane potential and facilitates essential biochemical processes, including waste elimination.
How do Humic and Fulvic Acids act as antioxidants?
When our bodies face chronic inflammation and acidity, humic and fulvic acids come to the rescue as potent antioxidants. They neutralize harmful free radicals, maintaining cellular health and resilience.